You Are Sitting on a Goldmine!
Posted On: 2015-03-25
by: Bill Platt
March
25th, 2015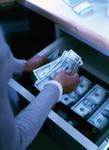 I was talking to a fellow book author over the weekend, and she told me, "Other writers are making ten thousand per month on Kindle, and I want that too!"
Ah yes, that is one of the reasons we write books, isn't it?
We enjoy the work, but we also do this kind of work for the money, right?
When you are sitting in a room full of book authors, everyone is pecking away at the computer, sometimes for months or years to create their next masterpiece.
When outsiders enter our world, we typically hear comments questioning our sanity for investing so much of our time in a project that offers no guarantee of a paycheck at the end of the week.
Here about three years ago, one of my neighbors discovered that I never left the house, so she decided it was her place in life to get me to get out of the house and help me find a job, and she would be there to hold my hand for me.
The words that she said that left me laughing heartily, like Santa Claus when Christmas is finally over, were "You work too much. And besides, you are never going to make any money sitting in front of that computer."
If she knew what the IRS knew about me, I am sure her attitude would have been much different. "Hey, instead of working all day, why don't you take me shopping for frivolous things?"
Here is the thing that most book authors don't think about too much.
90% of the making money game is earning the trust of your buyers, then giving them another opportunity to buy from you again.
Once someone has devoted three to four hours reading something that you have written, and they are confident that they like what you had to say, then you have pre-sold them on buying from you again.
We all know that we should be guiding our readers to a page where they can learn about other books we have written. At least,
we should all know that.
We can send them to a personal blog, or worse case, we can send them to an Amazon search for our author name, where they can find a list of all of our books available on the Amazon website.
"Hey, if you enjoyed reading this book, you will love these books also. Click Here..."
Even if only one-in-ten click that link, you could potentially add thousands of dollars of extra royalties to your bank account every month.
But linking to your other books is not your only option!
You should always link to your other books, but you should also seek opportunities to send them to other buying opportunities.
How you do this varies as to whether you are writing fiction or nonfiction books.
Most of you may think that what I am going to tell you next will only apply to nonfiction authors, but that is simply not true. There are loads of opportunities out there for us to earn more money from the back-matter in our books...
Consider this for fiction books...
Suppose I wrote a fiction book that takes place at a specific hotel in New York City... Or, I wrote about a story that takes place at a specific location in the Virgin Islands...
If I am really clever, I could sign up for a travel affiliate program (many of which can be found here), and tell my readers at the end of the book something like...
"I chose to set my story in the Virgin Islands at ABC resort, because my spouse and I enjoyed a wonderful week there a few years back. If you would like to consider a vacation to the same place, click here to find accommodations."
Depending on the travel company and the package that your reader buys, you can make anywhere from 2% to 10% commission from anyone who makes a purchase after following your link. The travel industry is a low-margin industry, so 2% is pretty standard. But 2% of a $2,000 purchase is a free $40.
If my cozy mystery describes some cup cakes that people can have delivered, you might sign up as an affiliate at Auntie M's Goodies, where they pay 10% to affiliates for all sales generated for them by their affiliates. However, I would recommend trying out some of their tasty cupcakes, so that you can tell the reader how awesome they taste within your story.
Here is another idea. You could set your book in Amish Pennsylvania and have your lead character be a carpenter who builds the highest quality Amish furniture. Then at the end of your book, you could link to a maker of fine Amish furniture such as the one found here. They will pay you 3% on every sale generated through your link.
Understanding how to do this for fiction is the hard part. Doing it with a nonfiction book is easier.
I have always argued that you don't necessarily want to link to a Clickbank product from a Kindle ebook, but you can do that.
And you definitely don't want to link directly to Amazon with an affiliate link from inside your book, because that is technically against Amazon's TOS.
However, you can link people to your own website, where you link to a product using an Amazon affiliate link. Amazon calls them "advertising links."
Sending people to your own site to sell a membership subscription is also a good play. I have a particular website I am setting up now for this purpose. The membership website will provide a specific type of content, and I will be using my Kindle books to catch the attention of the people most likely to purchase a subscription at that membership website.
If you have a nonfiction book about quilting, you could even refer people to a website called Keepsake Quilting and earn up to 10% of what your readers purchase at that website.
No matter your topic, you will have no problem finding opportunities to promote affiliate programs from within your books.
There are only three things to be aware of:
1. You don't actually need to "sell", nor do you want to. Simply tell people about the existence of these add-on purchases and give them a link.
2. Try to match the offers you present to the content in your books as closely as possible.
3. Only link to these items in the back-material of your books, unless you are writing nonfiction.
If you have not done this kind of thing in the past, you might be freaking out, coming up with dozens of reasons why you should just conclude that I am an idiot.
While you are free to decide I am an idiot, hear me out...
One of the most important lessons I learned about making money online is that if you want to make more money, you need to provide consumers more buy buttons.
That is all we are doing here.
We are providing people more buy buttons.
If you follow my advice in the first bullet point above, you are not going to be sticking your neck out telling people to buy something. You are simply going to give people a link where they could buy something if they want to do so.
Seriously, don't try to force a sell.
You probably don't know how to sell those items, and you don't want to do so even if you did know how to sell it, because you don't want people to believe you are trying to force a new purchase on them.
And while most people won't buy what you recommend to them, you don't need a lot of people to buy what you recommend.
A few years ago, I put a link on a particular web page that contained an article about a particular health supplement. The content was still solid, but the author's website was shut down. So, I added an Amazon affiliate link to that page, pointing to the same product on Amazon.
That link made me $800 in three months!
It is free money!
And here is the really interesting thing. Most people did not buy that supplement. They went to Amazon through the link, then they purchased something more expensive.
If you get someone to follow your Amazon affiliate link, Amazon will give you credit for all sales during the next 24 hours.
Most people will not buy from your link, and that is fine. You don't need everyone to buy from your links in order to make some serious affiliate cash.
For example, in the last 5 days, I made an easy $1800 by promoting a $9 product as an affiliate.
The reality is that maybe only 1-in-100 people will click the link at the end of your book,
but over years, the 1% of people who visit the websites you recommend could potentially add 5-figures per year or month to your income.
You just need to use a little creativity to set up new opportunities for you to earn more money from your book publishing business.
Heck. If you still think I am nuts, add one link to the back-matter of your books for one month, then at the end of your trial period, decide for yourself if you want to continue doing this within your business.
What really changed my thinking on doing things like this was the emails from customers who were thanking me for the items I recommended to them.
Give people an opportunity to decide for themselves what they are willing to buy, and your bank account will absolutely grow.
Bill Platt
has been helping authors be more productive for years. To learn how to write better fiction, check out his
fiction training guides
to see if he covers a topic you need help mastering.