What You Need to Sell More Books - Basic Overview
Posted On: 2014-08-06
by: Rachel Thompson
August
06, 2014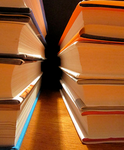 Another fabulous piece courtesy of Rachel Thompson and
Bookpromotion
. It's very relevant too - people are constantly wondering if they absolutely need to have an eBook version for their book, what are the top three marketing activities, how to advertise, etc. Read on for useful information!
There are a number of components to create an 'author platform,' and because this is a quick overview, I suggest you do some further reading and research to suit your particular goals and projected business plans.
This is by no means an exhaustive list. There is always something extra or more we can be doing to connect with readers. But that's the main component you want to keep in mind: building your platform is about building relationships and connecting with readers. It's not the hard sell!
1) A Spectacular Book
This is seems like a DUH kind of component, but since we've all read horrible books, it's clearly not a given. I always recommend that people hire professionals to work on their book: editor, proofreader, formatter, graphics. And saying, 'I can't afford it,' is well, crap, since you can now create a crowdfunding campaigns, a la
PubSlush
(I REALLY like their model). Don't rush it out just to have your book out - you'll regret it. When you're ready, the book will be, too.
2) A Strong Social Media Presence
I could go on a rant (as per my usual) about
not spamming links blindly or only talking about your book repeatedly
, ad nauseam, but at this point, you can guess that is not the way to sell books. In fact, social media alone will sell you very few books.
Why bother? Because social media is our new 'word of mouth,' and if you aren't connecting with your readers (aka, your demographic), you are missing out on an opportunity to build a strong fan base. Not only that, most
book bloggers
, book reviewers, and other publishing professionals are on social media. So put on your big-girl and big-boy pants and jump in.
Wait!
Not so fast. I suggest perusing this site and other information sources to learn how social media will help you and how not to tick people off. So, go read. If you can't figure out a social media channel, it's okay. Find one that fits you! Facebook is easiest for most people, but keep in mind that your personal account (aka, wall) isn't to be used for 'selling,' which is why you need a Facebook page instead.
3) Optimized Website and Fresh Blog Content
Most authors, myself included, know very little about
website optimization.
We're writers, not web designers, right? Oh, well. Time to learn. How? Read, study, ask people who know. Or heck, just Google your questions! I like this article on
basic SEO from The Book Designer.
As for blogging, Google loves fresh content. Once weekly is really the bare minimum you can get away with, twice weekly or more is better. But don't kill yourself - I have one friend who writes full time, is a mom and grandmother, and keeps three daily blogs. I'm pretty sure she's given up sleep by now. (If you don't know how to set up a blog, start with an easy format like Blogger or Tumblr. If you want the best SEO possible, start with WordPress.)
If more than once weekly is too much, look into guest blogging - ask people you admire to guest on your blog, thus easing up your writing schedule and building a bridge. See how easy that is?
4) Advertising
This is probably the most controversial topic and I won't go into all the sides, but options include:
- Google AdWords (check out TheAdWordsGuy.com for lots of free tips)
- Facebook, Goodreads, Twitter ads
- Site ads
- Small blogger ads
- Book Blogger ads
- BookBub, Kindle Nation Daily, and other spendy sites (that work).
For a complete list of sites, check out free Author Marketing Club for information and many options.
5) Ebook
Yes, you have to have an eBook version of your book. That's really a given at this point. According to the
latest Pew research:
'As of January 2014, some 76% of American adults ages 18 and older said that they read at least one book in the past year. Almost seven in ten adults (69%) read a book in print in the past 12 months, while 28% read an e-book, and 14% listened to an audiobook.'
In my own experience, for every 10 eBooks, I sell one print. Given that there is no production cost (beyond the initial costs), the royalties are pure profit. Plus, someone can download our books in seconds. There's no going beyond the convenience factor, regardless of whether you personally read them or not. And Kindle and Nook etc., apps are easily available and free. To be in the game, you have to be...in the game.
---
There is obviously much more that could be said on these topics, but we at Self Publisher Today think Rachel gave an excellent overview of the main self-publishing aspects. We would love to hear your thoughts, though, so tell us: What did you think about the points raised in this article?
Until Next Time,
Ashley Zee