Using Your eBook to Sell a Physical Product on Amazon
Posted On: 2013-09-25
by: Ashley Zee
Sept
25, 2013

Selling eBooks on Amazon is obviously a fantastic idea. It's lucrative, it's a growing market, and in the grand scheme of business models it's not terribly time consuming.
Having said that, there's another non-eBook side to Amazon: the selling of physical products. You probably have ordered physical products from Amazon yourself.
This is the bulk of Amazon's business, and people that successfully sell their products on Amazon earn a LOT of money.
You may be thinking: What does selling tangible, physical products on Amazon have to do with self-publishing?
More than you think, actually. Especially if you already have a product for sale on Amazon.
Using eBooks as part of your selling strategy is an unknown, under-appreciated marketing tactic that decimates competition.
**********************************************************
If you want to learn how to sell physical products
on Amazon, go watch this Amazing Selling Machine
video. Download the .pdf below the video too.
**********************************************************
Let me show a real example of a product that has a decisive edge over its competition because it is using eBooks as a selling tactic. I went to Amazon and searched Garcinia Cambojia (it's a dietary supplement that's all the rage). There were almost 1,500 products to choose from and they were all in the same price range. Suppose someone wanted to buy one of these products - how would they decide which one to choose?
Price, of course, is the biggest factor; good reviews are also crucial. However, since most of these products have good reviews and are in the same price range it's still quite difficult to decide which product to pick.
There is one more determining factor that will convince potential buyers to pick YOUR product versus a competitor's product: bonuses. Specifically, eBook bonuses!
This particular Garcinia Cambojia product stood out because unlike its competitors, it offered a free bonus:

Granted, this product listing is doing other things "correctly" too (the
Amazing Selling Machine
course I mentioned earlier covers all that). It has great images, it has good reviews, it is listed at a fair price and qualifies for free shipping, etc. But all of the competitors have this too, so it's really the free ebook in the product listing that stands out.
In the very first bullet point of the product listing, you'll see the free eBook being offered is really a powerful differentiation from other products:

And seriously, who wouldn't love a free eBook? The catch is that your eBook should be relevant to the product you are selling. If it's not related to the product, it no longer acts as an enticement but instead pushes prospective buyers away...
So if you use your eBook to encourage people to buy your product, you must be able to deliver that free eBook to your customer (otherwise you might get a bad review, and that is NOT good for sales). This is quick and easy to do.
After a customer buys from you, you'll see in your Amazon Seller Central the option to "Contact Buyer":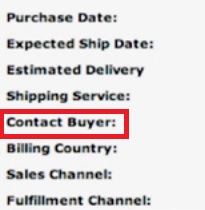 Click on this option to send a message to your customer. Within this message you will include the URL to your free eBook (this is the easiest way to deliver the eBook). Not only is this a good way to deliver their free eBook, but it's also really good customer service on your part (which will help you earn better reviews, which will encourage more people to buy your product, which will boost your sales - it's a beautiful cycle!)
Not many people are aware that you can offer free eBooks to boost actual tangible product sales, but it works wonderfully. And if you already have a eBooks written and ready to go, why not combine it with a physical product offer to really optimize the profits?
Until Next Time -
Ashley Zee
P.S - The Amazing Selling Machine course is the real deal. At the very least, I encourage you to
watch the movie and download the free .pdf
that they offer. It's definitely worth your time.