Using Tall Tweets to Advertise Your eBook
Posted On: 2013-08-21
by: Ashley Zee
Aug
21, 2013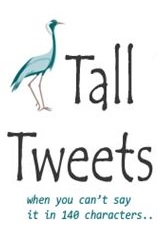 Confession: I'm not a big fan of Twitter.
Twitter can be one of the worst "time-suckers" if you don't handle it properly. It is too easy to get sucked into the Twitter vortex and jump from one asinine tweet to the next (or rarely one profound tweet to another) and lose precious time. Twitter is 99% chatter, 1% action.
In order to grow your business you need switch those figures and spend more time doing and less time chit-chatting.
For this reason I was initially hesitant to discuss Twitter, but for all of its faults Twitter is undeniably a part of the social media landscape. Since Twitter is not showing signs of disappearing anytime soon, it must play a part in your eBook marketing efforts.
With the invention of Tall Tweets I have become more enthusiastic about using Twitter. I still believe the bulk of your time is better served elsewhere (editing, writing, emailing your lists, building your own website, etc.) but Tall Tweets is a great free service to broadcast snippets of your new eBooks to a wide audience. You can use Tall Tweets to highlight good reviews, tweet copy that will encourage people to buy your book, or even tweet snippets from the book itself as a preview for your twitter followers.
Here's the basic premise of using Tall Tweets:
1.) Tweet an excerpt from the book, a positive review, copy from your squeeze page that encourages people to buy the book,etc.;
2.) Attach your link to the beginning and/or end of the tweet so that people can buy your book.
Here's what makes Tall Tweets so useful for eBook publishers: it allows you to post more than 140 characters at a time. There are no character allotment limitations. Without the standard 140 character limitation, you can better utilize Twitter for your marketing needs.
You could conceivably post your entire eBook to twitter with Tall Tweets (though I do not recommend it). A better strategy would be to post an excerpt from the book that is designed to hook your potential customer and compel them to purchase your book. If this is the strategy you are going for, make sure it's a VERY captivating passage - it should leave the potential customer begging to find an answer (Will she kiss the guy? Just what are the last 4 steps to making an upside-down Christmas tree, anyway? Is the axe-murderer behind the door? How else can I use vinegar to clean my home? Etc.) Don't pick your driest paragraph and use that as a selected reading. It won't generate any buzz or increase traffic and sales.
If your book is comprised of DIY material, pick a popular project and only post HALF of the steps into your Tall Tweet. Make sure to include the link to your eBook at the end of the tweet because people that see the tweet will want to know all of the steps (that previously mentioned upside-down Christmas tree is a real example of a DIY project, by the way) and they will click on the link you give in the tweet to find out the rest of the steps. Assuming your Amazon page (or squeeze page if it redirects to your own website) is in top form, your click-through and conversion rate should increase.
If you are unsure of what to use as your snippet on Tall Tweets, you can use part of the sample passage people would see if they clicked on the "Click to Look Inside" feature on Amazon as your Tall Tweet content. The idea here is that you whet their appetite with the Tall Tweet (and this tweet should always include the link to your eBook), get them to your Amazon page where they can read a little more with the "Click to Look Inside" feature, and then lock in their sale with good sales copy and reviews on your page.
If you have a great review from a customer, definitely use Tall Tweets to tweet that review in its entirety. Genuine positive reviews are powerful tools that you can use to gain more customers. Use Tall Tweets to advertise your positive reviews - it can't hurt your marketing efforts, it can only help.
These are just some ideas to use Tall Tweets to your advantage, and it's a marketing strategy that would not be possible if your initial tweet was only confined to 140 characters.
Luckily for all of us Tall Tweets is incredibly intuitive and easy to use.
Did I mention it's also free?
Give
Tall Tweets
a try and use it to maximize your eBook marketing on Twitter. I think you'll be happily surprised.
Until next time -
Ashley Zee