Not So Fast! Use This Tool Before Working On Your Next eBook
Posted On: 2013-08-28
by: James J. Jones
Aug
28, 2013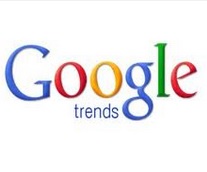 I'm a huge proponent of researching a niche before publishing any book. If you spend just a little bit of time researching upfront -- before you get started with writing and publishing -- you can save yourself a ton of time if that book turns out to be in a dead or dying niche.
One of the tools that I use to research a niche is Google Trends. For example here's a niche that I'm researching: 3D printing.
And as you can see from the screenshot back in 2009 even 2010 3D printing barely existed and now it's really trending up. It had a little bit of a drawback, but now is right back to trending up even more.
So if we look at eBook Niche Explorer for the search phrase 3D printing , we can see that there are eBooks in this niche that are doing very, very well.

There are four eBooks that are doing over $1,000 and one is even approaching $5,000. The total gross sales for eBooks on the first page is $8,526.07. There are only 61 competing results. This would be a great niche to research and publish in.
Here's another one,
CrossFit Workouts.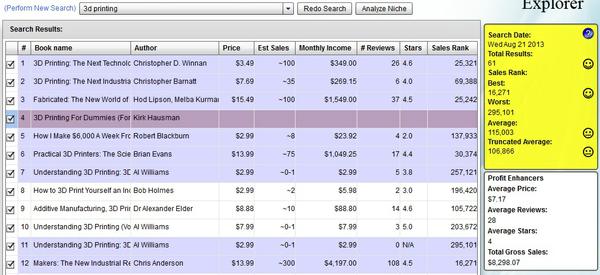 As you can see on the chart above it didn't even exist before 2007 and it's just been steadily increasing with a little bit of a dip in 2011 and now it's on a nice uptrend.
eBook Niche Explorer shows us this is a really great niche as well. There are lots of people in here making hundreds, even three people making over $1,000 in this niche.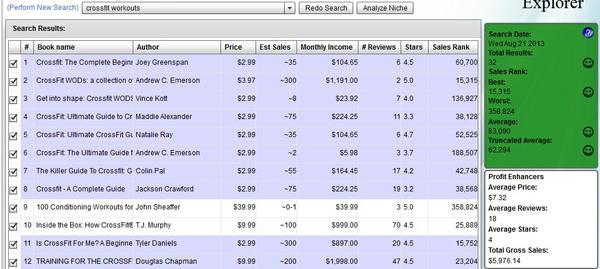 Without diligent research these niches would have been difficult to stumble across. Spending five minutes or so running your ideas through Google Trends saves time and increases profits. Make this part of your eBook publishing strategy. Not only will you save a ton of time, but you'll also increase the odds that your eBooks will dominate lucrative niches.
Have fun researching niches!
James J. Jones