Licensing 101: What Every Author Should Know About Images
Posted On: 2014-07-16
by: Mercedes Tabano
July
16, 2014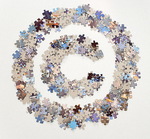 Disclaimer: this is a brief overview of common licenses for commercial use. This is not intended to be a substitute for genuine legal advice.
Have you heard the story of the $2,000 image? It goes like this; an author finds the perfect picture for their book. They look for a copyright mark and don't see one, so they use the image. However, it turns out the image was copyrighted. Now, they owe the copyright holder $2,000 when they could have licensed that image for $2.
So what went wrong? It's a matter of not knowing the different licenses.
Since sometime in the 90's, EVERY creative work is under copyright regardless as to whether or not it's creator applied for one or used a copyright mark. However, there are certain licenses that allow you to use the image for your books, blogs, and more. This is a look at those licenses.
Basic Stock Photo Licenses


If you buy an image from a typical stock photo site, that comes with a basic license. In most cases, this means you can use it for a website, a flyer, a business card or similar. However, if you want to use it on something for sale, such as a book cover, poster or other merchandise, then you need what is known as an extended or commercial license.
Extended Licenses


Most stock photo sites also offer what is known as extended or commercial licensees. This enables you to use it on items for resale, like a book cover. However, on major stock photo sites, such as Getty, this license is not unlimited. Most commercial licenses have a pre-built limit on the amount of times you can use it. Most often, the limit is between 10,000-300,000 copies. Though this sounds like a lot of books, for authors this means you have to keep track of your book sales for the rest of your life. For some lucky authors, that could be 90 years.
Public Domain


Public domain is the best type of image for all authors and artists. A public domain image is an image that has no copyright; therefore you can do whatever you want with it. Not only, can you use it in books and social media platforms, you can also use it on any merchandise for sale as well. You don't have to credit the original artist or ask permission. You can even combine several images into a brand new copyrightable image. Any work created prior to 1921 is public domain. Additionally, many works after 1921 have copyrights that have failed to renew while many new artists deed their works to the public domain. While these take a little more work to find, it's worth it.
Creative Commons


Many artists who grew up in the internet age, license their works with what is known as a creative commons license. A creative commons license means that you can use the image as long as you credit the artist and don't alter the image. Creative commons licenses are tricky as not all are for commercial use. A creative commons license for commercial use is perfect for book covers. This is because while most public domain works are too old fashioned for modern works, creative commons works have a more modern flair. Make sure that the creative commons license says for commercial use, and not just for personal use, and the world is yours.
The right image can make or break your book. However, using the wrong image can break your business financially. Knowing what the most common licenses mean can help save you time, headaches and money.
Until Next Time,
Mercedes Tabano