Introducing...
Posted On: 2015-01-07
by: James J Jones and Ashley Zee
January
07th, 2015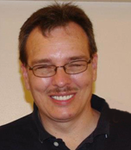 2015: a new year, a big year, and one that is starting with changes.
Yes, we at Self Publisher Today have some news we'd like to share with you...
... We're pleased to announce that self publishing expert Bill Platt will be the new Publisher of Self-Publisher Today!
Bill will be bringing with him many years of experience as a publisher and writer.
Bill has been making money as a writer since early 2001, and in March of 2005, he was able to leave the "job world" to become a full-time writer.
He has been through the trenches, and he knows what it is like to be on the precipice of entering the self-publishing world full-time.
Bill is a stupendous fit for you and your interests. We are confident you are going to be happy with the newsletter under his direction.
And don't worry we'll still be here behind the scenes making sure everything runs smoothly. We're still updating the website and you'll have access to those fantastic tools in the members section (which, by the way, you all should be using regularly!). We're just handing over the reins of this newsletter and you are going to love the results.
Join us in welcoming Bill to the Self-Publisher Today team!
Until next time,
James J Jones and Ashley Zee