How Much Time and Energy Should You Invest in Facebook?
Posted On: 2014-08-13
by: Mercedes Tabano
August
13, 2014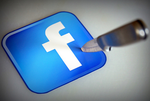 Facebook recently ran a little experiment that showed a
select group of people only negative reviews.
Ah yes, Facebook algorithms at their finest!
While the full backlash of this for Facebook is just getting started, marketers have already started to feel it. Maybe, just maybe, Facebook is dying as a marketing tool.
Between Facebook experiments and their new algorithms, most business pages are seeing a sharp drop in their viewership. If the only way you reach your people is though Facebook, then this is bad news. But don't despair, there is another way.
What Is An Email List And Where Do You Get One?
An email list is a list of people who have signed up to hear from you. They are your fans. Imagine the power of sending out a single email to 50, 100, or even 1000+ people who are eager to hear about your next book or event.
Do you think you'll sell more books with a list like that? You bet you could.
You'll notice I mentioned that the list should comprise of people who want to hear from you. This leaves out purchasing lists. So where do you get these names? You offer an opt-in and utilize giveaways.
Opt-Ins And Giveaways
An opt-in is where you give something away in exchange for an email address. When people opt-in to get your giveaway, they are saying they want to hear from you. Naturally, they don't want to hear from you all the time, but they do want to hear from you occasionally. Your giveaway is the first product people receive from you. Therefore, they form their impressions of you based on this first product. If they love this first product, then chances are they'll love your next paid product, too. The best thing to give away is something that relates to your book.
Most fictional authors give away a chapter of their book, while nonfiction authors give out some kind of supplementary material that goes with their book. The most important thing to remember about your giveaway is to make it as good as your book.
Treating Your List like Gold
Once you have a list, it's important to treat it right. Your list is comprised of not just your buyers, but should also be thought of as your friends. Not the type of friends you tell your deepest thoughts to, of course, but the type of friends you make recommendations to. If you wouldn't send your 'real' friends this offer, then don't send it to your list.
A good marketer sends out useful information that actually benefits their subscribers. They also protect their list from more unscrupulous marketers, inferior products and those who would use your list to spam. When you take good care of your list, it will take care of you.
Right now, being on Facebook is still a good idea for authors. It's one of the easiest ways to build your platform. However, it's conceivable that the next 'Facebook ' is right around the corner, and that soon, Facebook will go the way of Myspace and Orkut. When this happens, (because if history has told us anything, it is a when, not an 'if') you'll be glad that you built your list. Now you'll still be able to send out offers, let them know about your latest books, and direct them to your new social media platform. Keeping in touch with a community outside a platform like Facebook is not only smart marketing, but your list will appreciate your good care and reward you with more book sales.
Until Next Time,
Mercedes Tabano