Hot Niche Analysis: Preppers
Posted On: 2013-07-10
by: James Jones
July
10, 2013

It's not always a bad sign when your Word Processing software indicates you've misspelled the name of your niche.
That's because the niche, "preppers," is so new the word hasn't been added to the lexicon yet. In fact, it doesn't
even have a Wikipedia entry. The term "preppers" is the hipper, cooler term for survivalist... probably coined from the idea that survivalists "prep ahead" in order to be prepared for emergencies situations... and popularized by the National Geographic Channel reality TV Show, Doomsday Preppers.
Google Tends shows the term was practically non-existent until early 2012: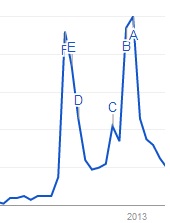 The spikes you see coincide with the 1st and 2nd seasons of Doomsday Preppers. And even though searches fall off after the Doomsday Preppers original season episodes are aired the term still maintains significant search volume.
For example, if we compare the term "preppers" with a different popular niche term you can see how "preppers" is holding up: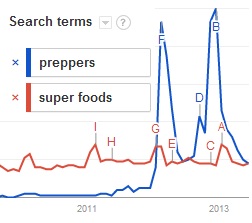 So, even during the off season "lull" the preppers niche is doing just about as well as the super foods niche.
Plus, when the National Geographic Channel brings Doomsday Preppers back for a 3rd season the niche searches will spike again and that should translate into even more book sales.
Here are some Statistics on top 16 eBooks in the "preppers" niche on Kindle... curtisy of the eBook niche analysis tool, eBook Niche Explorer: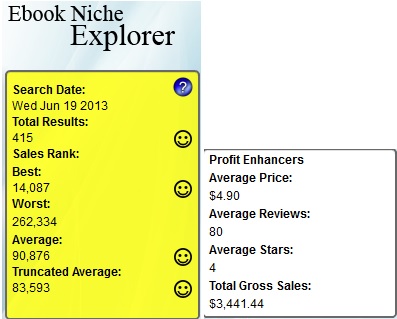 The best-selling book in this niche is: Poverty Prepping: How to Stock up For Tomorrow When You Can't Afford to Eat Today by Susan Gregersen. According to eBook Niche Explorer It sells roughly 400 copies per month, at $2.99 each. Total sales amount to $1,196.00 per month.
This niche has average competition of 415 competing books. You will need to put in some effort to get a book to the first page of the rankings.
Overall this is a great niche and all indications are it will continue to increase.
Happy Niche Hunting -
James J. Jones