Creating The Perfect Title
Posted On: 2014-05-21
by: Ashley Zee
May
21, 2014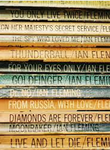 It's not easy creating an eye-catching title that stands out from the competition and maximizes the power of internet/Amazon searches to your advantage. Many authors completely butcher their titles; with a bit of research, you can create powerful titles that help sell your book.
Your title will inevitably be greatly determined by the genre in which it is in. Let's consider nonfiction genres first.
If you are writing a book that is nonfiction, aim to...
* Choose a keyword-rich title. You want to convey to potential customers what your book will deliver. Don't obscure the focus of your nonfiction book!

* As far as it makes sense and produces a logical title, you want to mimic the exact words or phrases your potential audience might type into the search bar. A keyword-rich title obviously coincides with this goal. So if you are writing a book about The British Raj in India, a logical search term would be "The British Raj". Try to incorporate this into your title!

* Keep your title brief and to the point. You can use colors and images to jazz up your title, but keep the actual words clear and short.

* This brings up my next point - you can be clever and creative in either your title (though this is more dangerous for nonfiction books, since you want to stay focused) or in your images/design. Going overboard on both will result in overkill (and less sales). Here are some things to avoid if you need are writing a nonfiction book...
Here are some things to avoid if you need are writing a nonfiction book...
* I've mentioned it before but it bears repeating because it is that important and so many people mess it up: Don't obscure the focus of your book! You only have a few seconds to impress potential customers. When they are searching for a specific topic you only have a tiny window of time to convey to them that your book is relevant. Don't blow this opportunity.

* Don't partake in keyword-stuffing! Your title needs to read naturally. If your title is chock full of relevant keywords - but it doesn't read logically or naturally - potential customers are going to instantly distrust you and your book.

* Don't mislead potential customers by using super-hot "buzzwords" in your title if your book only pays nominal attention to said buzzwords. Don't say your book is about importing/exporting from China if your book is actually more focused on the history and culture of China, for example. People that buy your book under false pretenses will become enraged and the comments they will leave will decimate any possibility of future sales. Mislead and exaggerate in your title at your own peril.
The "rules" are slightly different when writing a fiction book...
* Choose a title that fits your genre. If your genre has a lot of punny titles (such as joke books) then by all means pick a funny pun for your title. Each genre and book niche have their own unspoken but distinct "rules" about what a title should sound and look like - don't go against this grain! If you're unsure what the conventions for your genre are, look at the top title's in your book's category. Dig deep (at least 50 titles if you can manage, though 100 titles might give a more comprehensive look) and figure out the commonalities and distinctions between the top sellers in your genre. Use this as a blueprint when determining your own title.

* Whereas with nonfiction it behooves you to not get too creative with the title, fiction books are an entirely different beast. These titles can be evocative. Ideally these fiction titles, and their corresponding cover images, compel the potential customer to look more deeply into your book (and in turn buy your book). If at all possible you still should try to give hints as to what your book might contain, but you can take way more poetic liberties with fiction titles than nonfiction titles.

* Take Edgar Allan Poe's The Raven, for instance; even if you had no idea what the story was about, the title is interesting enough to stand out of the crowd and conveys a dark and foreboding mood. Or consider Suzanne Collins' The Hunger Games - from the title alone you can tell a.) there is some kind of game involved and b.) hunger isn't a good thing, so probably these games are not so fun and could be indicative of a deeply troubled time/place/event. Such a clever title, but it only works in the fiction genre!

* This goes for any title, but it is especially true for fiction titles because one can be more creative in this field: read your title aloud! It must sound good to hear and roll off the tongue easily. An overly complicated or long title can doom an otherwise perfectly good book.


On a final note: Don't tread onto well established titles by other authors - for instance, I looked up The Call of the Wild (a very famous book by Jack London) and found search results for Call of the Wild, My Call of the Wild, A Wild Call: Adventures in Alaska , etc. It may be tempting to piggyback on a well-established title but you run the risk of copyright and trademark infringement (not to mention it's borderline disrespectful).
With these simple considerations you can optimize your title in both a search-engine sense and in an intuitive, people-friendly sense. A great title can set the tone for the entire book and "stick" in the minds of potential readers (to the point where they just have to buy your book). A little bit of research and a lot of thinking can transform a ho-hum title into a powerful aspect of your book.
Until Next Time,
Ashley Zee