Creating Book Trailers Without a Video Camera
Posted On: 2014-05-07
by: Ashlee Zee
May
07, 2014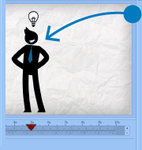 The fear of being on camera is one of the reasons indie authors give for not having a trailer for their book. Another is not having access to a decent video camera. While most people today do have built in video cameras on their smartphones, it produces a less than professional video.
So how is an indie author supposed to create a video trailer without a video camera? There are several ways.
PowerPoint
Microsoft's PowerPoint is one of the easiest and least expensive ways to get started with creating book trailers. And the best part is, if you already have an MS Office Suite on your computer, then you already have
PowerPoint
. PowerPoint creates the raw materials you need to create your video.
It creates the slides, the matchup of images and written words. It can also be formatted for modern devices with wider slides. Once you have your slides, save them as JPGs in order to import them into Windows Movie Maker. From here, you can turn these static images into a real video.
Windows Movie Maker
Even though Microsoft has discontinued Windows Movie Maker Live, an inferior product, there are still many reputable sites that will let you download a free version of
Windows Movie Maker
. Since Windows Movie Maker was always a free program, and since Microsoft is no longer interested in it, it's now considered 'freeware'.
Once you have your 'slides' created in PowerPoint, you can import them and place them where you like inside your new video project. Windows Movie Maker comes with a variety of fun transitions to make the movement from slide to slide seamless. This version also has a 'timeline feature'. With timeline, you can synch words, effects, and images to work together as a unified whole. Timeline is also a great way to 'layer' different sounds, such as talking, music and sound effects. It even lets you import videos.
PowToon
If you're looking for something a little more animated, then try
PowToon
. PowToon is a video site you can use to create animated cartoon videos. It's as easy to use as PowerPoint and gives a much better result. It also comes with a variety of premade animated figures and music for you to use as well as giving you the option of uploading your own. It even has the ability to do those whiteboard explainer videos. The finished product can be sent to YouTube directly or downloaded so you can upload them later to YouTube.
PowToon offers many levels of membership; including free, paid, premium, and pay as you go. With so many options, this is one of the least expensive ways to create a cool, animate book trailer suitable for every genre.
Fiverr
If you have a little more of a budget, then
Fiverr
is the place to go for video trailers. Don't let the name fool you, it WILL cost you more than $5. Every service imaginable for trailers is on Fiverr, professional voiceovers, character voiceovers, special effects, premade template trailers, intros, credits, and so much more.
On Fiverr your trailer is only limited by your budget and your imagination. Best of all, you don't have to actually have any technical skills to get a first rate trailer.
Shooting video used to be a long and involved process. You needed special lights, special cameras, microphones and more. Fortunately, technological advances mean that we no longer have to have any of that. In fact, creating video is so easy, you could have one done by the end of the day.
Until Next Time,
Mercedes Tabano