CreateSpace? More Like CreateGREAT Covers
Posted On: 2013-12-18
by: Teresa Miller
December
18, 2013
When it comes to moving from Kindle publishing to print, one of the biggest obstacles I've seen among my clients has been that of getting a proper cover made. In the same way that physical book interior design requires additional formatting elements, a physical book cover requires more than just an attractive flat front cover.
You also need a back cover that typically includes a mini-bio of the author, testimonials or quotes from people about the book, and a mini-description of the book. There may or may not be a small author photo and/or publisher logo on the back cover as well.
Image resolution becomes an issue with a print cover as well. You need a higher resolution than what is needed for an ebook. All images for your CS cover must be a minimum resolution of 300dpi.
Some print books will also have a printed spine. CreateSpace recommends that you have no printing on the spine of your book if the book is less than 130 pages. Blank spines are a requirement if your book has less than 100 pages.
The cover for your physical book is a one-piece, wraparound cover that includes all of the parts: your front cover, back cover and spine. The cover must be sized to exact specifications to fit the dimensions of your book, including its trim size, number of pages, and thickness of pages based on the paper type you've chosen.
Fortunately for us, CreateSpace makes it very easy to get these specifications. If you are planning to create your own cover from scratch, or give instructions to an outsourcer, you can find the calculations here:
https://www.createspace.com/Products/Book/CoverPDF.jsp
But what if you don't want to make all of those calculations? You do have options!
The CreateSpace publishing dashboard gives you three options for submitting your book cover: you can use the CreateSpace online Cover Creator, you can order one from the CreateSpace design team, or you can design your own from scratch. There is of course a fourth option: you can outsource a cover somewhere other than CreateSpace.
No matter which option you choose, you can avoid making any calculations if you do things in the right order.
If you plan to upload your own cover (outsource or create your own) you can still let CreateSpace do the math for you. Just wait until you have uploaded your completed interior file, and you'll have the chance to download a pre-sized template with the calculations already made for you.
Alternatively, you can hire the CreateSpace design team to design your cover. I've never worked with them, so I can't comment one way or the other, other than to say that if you use their team, you know you'll have a cover that meets their requirements. The current starting price (at the time I'm writing this) is $399.
The option that many people dismiss without consideration is the CreateSpace Cover Creator. I suggest you give it another look.
The Cover Creator is very easy to use. I am not a graphics person, and I find it not at all difficult. You can get some surprisingly unique covers if you go about it the right way.
Download and Watch the Cover Creator Video Tutorial
There are about 30 built-in templates, varying in style. For most of the templates, you simply select the one you want and upload your images (or use one from their image library) and type your text directly into the cover creator form.
You can try out different templates easily by switching the template selection. Some have a background image you can change; others have just smaller images that can be inserted. You can personalize your cover by changing colors, and there are elements that you can turn on or off, but you can't change the overall layout or the fonts.
For more creative control, there are a few template options inside the cover creator that many people aren't aware of. They are located on pages 4 and 5 of the template design options.
On page 4, "The Palm" cover template allows you to upload flat front and back separate covers, and "The Pine" template allows you to upload a one-piece front, back and spine wraparound cover. On page 5, "The Spruce" template allows you to upload a flat front cover, and type your back cover information directly into the template.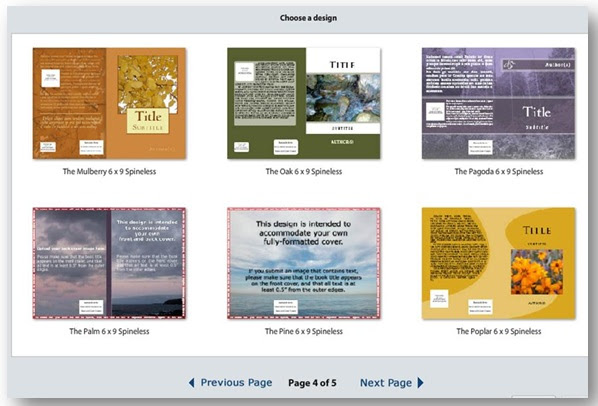 The benefit of using these options is that you can upload your own cover graphics, but CreateSpace will do the all of the size calculations for you. Also, if you use one of the options that allows for a flat front cover, you can use your Kindle cover to create a matching print cover.
With all of these options, it really isn't that hard to produce a beautiful cover for your physical book without breaking the bank!
Best of luck,
Teresa Miller
This material is excerpted from CreateSpace Intensive. If you are interested in learning more about designing your book for CreateSpace, visit:

http://tjmpublications.com/createspace-intensive